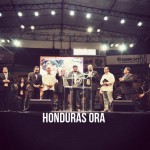 After a week of compassion and evangelism around the city, the first night of the Honduras Ora crusade meetings was finally here. The team headed to the stadium around 5:30, full of anticipation for what was going to take place.
As we were ushered into the stadium we heard the sounds of prayer coming from the stage. Then, once we were seated a few hundred feet from the stage, a time of worship began. What a wonderful time of celebration in the presence of the Lord with the people of Honduras!
Enter his gates with thanksgiving and his courts with praise; give thanks and praise his name. – Psalm 100:4
To see all the people together in one place was encouraging. Both rich and poor, young and old, came together in unity. Even the President of Honduras was in attendance, just as he said he would be. There he stood with a smile on his face, praising the Lord! How refreshing it was to see a President with the heart of a servant.
Once worship ended the Stadium entered into a time of prayer, led by the political and spiritual leaders of the nation. Each pastor took turns praying over the people, nation, and leadership. When denominations and religious groups are together in Biblical unity, as one voice, there is power!
Be shepherds of God's flock that is under your care, serving as overseers-not because you must, but because you are willing, as God wants you to be; not greedy for money, but eager to serve; not lording it over those entrusted to you, but being examples to the flock. And when the Chief Shepherd appears, you will receive the crown of glory that will never fade away. – 1 Peter 5:2-4
After the time of prayer and worship, it was time for Stephen Evans and Dennis Aplicano to bring the word of the Lord to the people of Honduras. But before he shared the message, he asked for his team to join them on the stage. This included Stephen's wife Alisa, Dennis's wife Tammy, William and Erin Aplicano, and Steve and Nita New.
As a sign of humility, Stephen then asked for his team to get on their knees, and for those in attendance to pray for them. As thousands stretched out their hands toward the platform, a spirit of humility feel on that place.
Stephen would later call Honduras to a renewed focus on humility and prayer, having personally just set an example of this on his knees before the crowd! A spiritual leader should set an example, not just with words, but by their actions.
The verse that rang true throughout the night was 2nd Chronicles 7:14, and Stephen spoke to each part of the verse in detail. This was the entire point of the Honduras Prays crusades. It's not about Light of Life International, it's not about Stephen Evans, but about Honduras humbling themselves in prayer before the Lord Almighty!
If my people, who are called by my name, will humble themselves and pray and seek my face and turn from their wicked ways, then I will hear from heaven, and I will forgive their sin and will heal their land.
After the message there was a call to repentance, and an invitation to the front for the sick. Many came forward to receive prayer and a touch from the Lord. Both spiritual, physical, and emotional sickness were cast out in Jesus name!
The night brought compassion, passion, transformation, and destiny to a nation. It was a great start to the crusade meetings, and to echo the words of Stephen on the platform Friday night, the best is yet to come in Honduras!