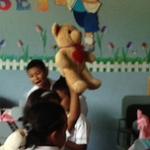 It's the end of the first day of distribution here in Honduras, and there have already been so many great stories of the Lord at work. Today we visited a school in a town called Cofradia, on the outskirts of San Pedro Sula.
We had planned on going house to house initially, but the pastor of the church mentioned that there was an elementary school not far from the church. We made contact with the head master and she was excited to allow us to minister to the kids.
There were three classes in session when we were there. In each class we spent time talking to them about Jesus, sang several kids songs about Jesus with them, and then gave each of them a bag of food and a stuffed animal.
Initially the kids were somewhat slow to respond, but when one of our interpreters taught them the song, "Jesus is my Superhero," including the hand and body motions, they really responded. This really set them up for receiving the stuffed animals. When we were leaving, the head master asked if we could come back for the afternoon classes.
One of the blessings of ministering to the kids was knowing that the seeds that were planed in them will be used by the Lord to bring fruit out of them over the next several years and decades. This fruit can influence their generation to be Kingdom builders to all of Honduras. It was a powerful experience.